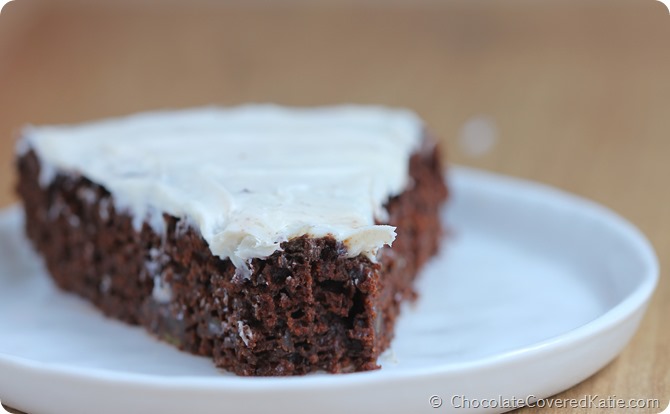 Ingredients
1 cup spelt, white, Bob's gf, or whole wheat pastry flour
6 tbsp cacao or unsweetened cocoa powder
1/2 tsp baking soda
1/2 tsp salt
3/4 cup xylitol or granulated sugar of choice
1/2 cup mini dark high quality chocolate chips, optional
1/4 cup yogurt, plain
3/4 cup water
1/4 cup mashed avocado, measured after mashing
2 tsps. pure vanilla extract
Instructions
Preheat oven to 350 degrees.
Grease an 8-in square or round pan. (Or double the recipe for a double-layer cake.) Set aside.
In a large bowl, combine the flour, cocoa powder, baking soda, salt, optional chips, and sweetener, and stir very well. In a separate bowl, whisk together all remaining ingredients.
Pour wet into dry and stir until just combined (don't over-mix), then pour into the greased pan.
Bake 25 minutes or until batter has risen and a toothpick inserted into the center of the cake comes out clean. Refrigerate for at least 30 minutes before serving. You can top with whatever you find most appealing: whipped cream, ice cream, macerated berries, etc.