Amy Pollok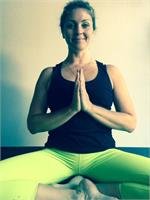 Amy believes that committing to a consistent yoga practice has transformed her life. I didn't come to love and appreciate my body until I started a consistent yoga practice. Through yoga I learned to see myself in a different light. When we learn to balance breath with movement, increasing our focus and discernment, we begin to expand our consciousness, that's when we begin to see results on and off the mat. We move with less resistance and more love. Our relationship with ourselves and with others improves. We discover a flow in our day and joy in our interactions that wasn't present in the past. Yoga has really shown me that positive change is possible and that's what I wish for my students. Amy trained in Power Vinyasa, Hatha yoga, Body – Mind Centering and Body-based Gestalt Psychotherapy. Amy is a 200 hr. RYT and an RSMT (Somatic Movement Therapist) with a practice in Takoma Park, MD.
Amy Pollok instructs the following:
Build strength and flexibility and encourage cardiovascular health with this fun and quick-paced Vinyasa Flow class. Form, movement and breathwork are integrated into carefully sequenced yoga poses, generally referred to as sun salutations. Prepare to work, have fun, and develop a practice with many health benefits.