Bisrat Abebe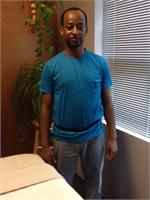 Bisrat Abebe, RMP, trained initially in Virginia for massage therapy. His passion in massage is to work with clients needing deeper, therapeutic work and sports massage. Bisrat also works with clients providing prenatal massage and geriatric massage. His work includes stretching as well.
See what Bisrat's clients are saying:
"Blue Heron has such a calming and peaceful feel. Everyone is so warm and welcoming from start to finish. I saw Bisrat for my massage and I will definitely be back, I even booked my next appointment when I was checking out. I highly recommend Blue Heron. Tammy S 3/2018
"My massage experience with Bisrat was simply amazing !!! His touch is firm but relaxing , his time management was everything , I felt like my 60 min was an 90 min massage , very detailed !!! Bisrat is truly talented, I cannot wait til my next session. Bisrat now has a new client!? BC 3/2018
"What a delight-full experience to share with my daughter!!! The professional hands of Bisret, the Masseuse, were "firmly gentle", and he was also willing to provide me with follow-up exercises to continue my fitness. It was also a "treat" to see that my jewelry creations have been well-received by other clients. Yay! I have found another "safe haven" for personal health and well-being. Thank you" Sharon K., July 2017

"After 39 miles of walking in the 2017 Washington DC Avon Breast Cancer Walk To End It, I took the advice of another 39 Walker to get full body massage and I got appointment within less than one hour notice. Not only were they accommodating, but my feet and body felt so good I felt like I could conquer the world. All my stress, soreness and tightness were smoothed out by this magnificent, professional and detailed Registered Massage Practitioner, Bisrat Abebe, RMP @ Blue Heron Welness! Thanks soooo much for a job well done Elois., May 2017
"Bisrat gave an excellent deep tissue massage. I came in with very tight muscles and discomfort on my right side and he identified the problem spots and focused the treatment there. I felt much better the following day and will definitely be back again to see him." Leah M., Apr 2017.
"Bisrat is a phenomenal massage therapist! He incorporates stretching into his deep-tissue massage for maximum benefits to my lower back." Christina R., Feb 2017

"Bisrat gave me probably the best therapeutic massage I've ever had! My tight back & shoulders felt SO much better not only right afterwards but through today. I highly recommend him! Monica S, Oct 2016
"
Excellent massage with Bisrat. Great technique. I will return very soon! I purchased a 3-massage package." Nancy S. 10/2016
"Best deep tissue massage EVER by Bisrat! It's the next day and my lower back pain is gone! This has never happened before!" Christina R., 8/2016
"2 days after my first massage with Bisrat my neck still feels really good after he stretched out my tight muscles. In fact, it's better than it's been in eons. I had a deep tissue full body massage and scheduled another before I left Blue Heron," Myrna F., 8/2016
Bisrat Abebe is currently not instructing any classes.