Rachel Scheck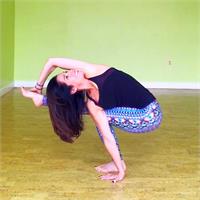 Rachel began her yoga journey in 1997 while pregnant with her second child. Over the years she has practiced Hatha, Anusara, Ashtanga, Vinyasa, and Acroyoga. With certifications from both Yogafit, as well as YoKid, and countless Anusara workshops and immersions, Rachel considers her practice and classes to be a 'yoga fusion.' Rachel feels there are benefits from all types of yoga, so it is fun to mix it up. She infuses her classes with mindfulness, laughter, and a playful spirit. By focusing on the breath and alignment, her students gain greater strength, balance, focus and flexibility both on and off the mat. She finds inspiration everywhere, from her teachers and students to music, pop culture, and her family. Rachel believes everyone can do yoga so she enjoys teaching students of all ages and levels – from kids to teens to adults.
Rachel Scheck instructs the following:
This class is for intermediate/advanced students who are looking for a little more adventure on their yoga mats. This 75 minute yoga practice will focus on advancing our practice by focusing on building strength, gaining flexibility, and flowing with the breath. Expect creative sequencing, a strong and playful practice, and a nice dose of laughter.


Regular practice outside of class is strongly encouraged.