Sara Crosby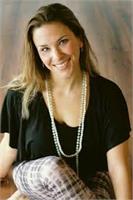 Trained as a dancer her whole life, Sara first saw Vinyasa yoga as a natural supplement to her dancing. Though after discovering Prana Flow in 2006, her commitment to yoga jumped to a whole new level. The guided free form movement and creative, flowing sequencing really resonated; it was like dancing on her mat.
Sara is currently studying to complete her 500 hour RYT in Prana Flow. Yoga has also ignited a deep passion for service work, with a focus on sustainable community development, taking Sara both across continents and into her own backyard. Currently she lending her efforts to help develop The Growing Hope Initiative, a new non-profit dedicated to using organic agriculture, yoga and the arts to transform communities in Southern Florida and the Keys.
She also recently completed the Off the Mat and Into the World Leadership Training Program and hopes to continue to use yoga as a means to unite, heal and empower.
When not on the mat, Sara works as a documentary film producer and new mom to a beautiful baby girl.
Sara Crosby instructs the following:
Build strength and flexibility and encourage cardiovascular health with this fun and quick-paced Vinyasa Flow class. Form, movement and breathwork are integrated into carefully sequenced yoga poses, generally referred to as sun salutations. Prepare to work, have fun, and develop a practice with many health benefits.




Designed to both invigorate and unwind, this yoga practice will begin with a dynamic, flowing vinyasa sequence and end with a restorative sequence of poses which will send you into the rest of your day feeling relaxed and renewed.