Francine Brungardt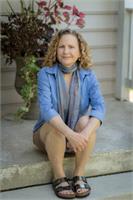 Francine's independent and intuitive yogic studies began over thirty years ago. First practicing with Lilias Folan via the rabbit-eared black and white t.v. screen on top of a dresser in her parent's bedroom, she's followed her heart through various paths and lessons ever since. Her roots stand firmly in the Hatha tradition and her primary influences from the alignment based branches of yoga continue to inform and inspire her.


Francine's Clients Say:
"Prenatal yoga with Francine is the highlight of my week. Classes are gentle but purposeful, and meeting other mamas is so nice." Amy W. 9/2017
"It was my first time attending a prenatal yoga class (at 20 pregnant) and I left feeling so inspired! Francine is wonderful and let's you do everything at your pace and comfort level. I came in with back pain and left feeling no pain and excited about attending the next class!" Nadia J, 7/2016
"Very relaxing and friendly environment. The receptionist was very welcoming. I did pre-natal yoga. The teacher, Francine, was really nice to put me at ease since it was my first time. She also provided good advices during the lesson to do postures at the very best and after she recommended other courses I can attend in my conditions. I think it is a very good investment for yourself and I think I will also try the many other services they offer!" Francesca B., 10/15
"Francine is such a nurturing guide for all of the mamas in her pre and post natal class. She gently encourages women to stretch and build strength for their changing bodies while honoring the new life building within. She takes the time to get to know individual students and provides emotional as well as physical support. I recommend this class to all mamas!" Annie N. 11/2015
Francine Brungardt instructs the following:
This prenatal yoga class is designed for those who who are looking for a community of moms during their pregnancy and new ways to keep their body moving. Pregnancy changes everything - body, mind and spirit. This practice will help your body throughout the process of pregnancy and delivery, building strength and endurance in your legs, core, pelvic region and hips. Breath work and meditation are included to strengthen the mind/body connection and give you time to rest your whole being and deepen the bond already there between mother and baby. This class welcomes participants within the broad spectrum of yogic experience from absolute newbies to seasoned practitioners.




In Yoga I the emphasis is on developing awareness of the body and learning alignment. Students will be introduced to Sun Salutations and other basic poses, as well as breathing techniques.




Effortlessly discover new levels of well being through the practice of yoga nidra. Directly translated as "yogic sleep," yoga nidra enables an extraordinary experience of profound relaxation. Particularly beneficial for managing stress related issues, the process requires nothing more than arriving in loose clothing, ready to rest comfortably in a dimly lighted, calm and quiet studio. Gently guided through a series of meditative verbal cues, this unique, hour long class enables practitioners to let go completely.