Freida Frances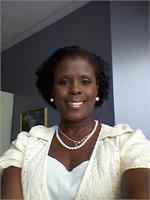 Freida Francis is an Esthetician with a passion for, knowledge about, the skin. She is driven by her quest to help her clients achieve healthy glowing skin . A graduate of Steiner Institute of Esthetics, Ms. Francis has since been nationally certified, but keep abreast with the latest developments in the industry by attending as many workshops and seminars as her busy schedule allows. Her expertise extends to such areas in skin care: caring for different skin types, skin conditions, touch therapy for the (scalp, feet , hand and arm), reflexology, acupressure touch therapy for face. As a nationally trained Esthetician, Freida will help you understand your skin from the inside out . She strongly believes that achieving healthy glowing skin involves more than just applying products to the top layer. What you see on the outside is just half the story.
Freida's Clients Say:
"Freida's facial was absolutely wonderful!"
Laurel P 5/2118
"Freida is the best, knowledgeable and professional. The experience is holistic and like going to see a friend." Mary S-B, 3/2018
"I had a wonderful Facial at Blue Heron. Freida was extremely knowledgeable and provided a relaxing and refreshing facial. My skin feels fresh and new and I have a great new skin care routine."
"Frieda is a genius for facials. My skin always feels better afterwards." Liz. E, 9/2017
"I had my first facial ever and Freda was absolutely wonderful! My face felt alive! I will definitely make this my once a month ritual!" Claudette, 8/2017
"I had a fabulous facial with Freida. From the moment I entered the facility there was a feeling of serenity. Freida is excellent - a lovely demeanor, knowledgeable, and a great practitioner. I highly recommend her!" Deb A., 7/2017
"When I come in to get a facial the atmosphere is relaxing and I truly believe my skin has improved from Freida's work,"Nadia R., 8/2016
"Freida is lovely and made me comfortable in every way possible. Because of her gentle touch my waxing was not the torture I had expected!" Diana G 7/2016
"Frieda, as always, gave me a great facial and peel She goes out of her way to provide extra little touches that make the experience so great!" Susan W. 10/15
"Best facial ever and most beautiful relaxing atmosphere. I recommend everyone to go here." 9/15
"Freida is fantastic! I see improvement in my skin after 2 visits." Dionne C. 5/16
"Frieda gave one of the best facials I've ever had. It was informative and very relaxing." Kate G. 6/16
Freida Frances is currently not instructing any classes.