Lorraine M Rao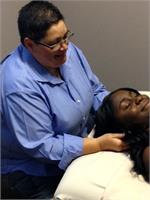 Lorraine Rao, RMP, is a graduate of the Potomac Massage Training Institute in Washington, D.C. She has been a professional massage practitioner for three years and is certified by the National Certification Board for Therapeutic Massage and Bodywork as well as the State of Maryland Board of Chiropractic Examiners. Lorraine uses both Swedish and Deep Tissue Massage techniques that facilitate whole-body relaxation and support health and healing. She has a special expertise in issues surrounding the back, neck and shoulders – areas of the body that are highly vulnerable to stress from everyday activities (such as driving or working on the computer) as well as to acute injury. Lorraine understands how relaxation and massage can help people achieve other important health goals, and has helped clients incorporate massage into a variety of their goals, including pain management, weight management, healthy aging, emotional wellness, and stress reduction. Most important to Lorraine's practice is putting clients truly at ease and listening attentively to their needs and their bodies' stories.
See what Lorraine's clients say:
Lorraine is amazing! 90 minutes of relaxation. Aaahhhhhh C Taylor 3/2018
"I have never had a better massage. And everyone At BHW is friendly and professional. Lorraine is the best! I love this place." Jeanne B, 9/2017
"Blue Heron is my sanctuary. If I won the lotto I'd be there every day. The staff is kind, organized and well mannered. I have enjoyed both acupuncture and massage care as well. Lorraine is a godsend and you can tell they enjoy what they do. Keep up the awesome job Blue Heron!" Victoria W. 9/2015
"Lorraine takes you to a higher plane with her wonderful massages!" Nancy M 1/2018
"Lorraine was wonderful. Massage to specifications!" 10/2015
"The massage with Lorraine was by far one of the best knot and tension-busting massages I've received! Plus the tranquil environment and lovely staff made for a wonderful restorative experience." Courtney S. 11/2015
"I had a wonderful experience. Lorraine was excellent!" Cynde N. 11/2015
"I called Friday morning before Storm Jonas hoping for a massage. They called Lorraine who was able to come in on short notice. The massage was incredible - just what I needed. I'm very tender to touch and don't tolerate deep tissue massage and Lorraine adjusted her technique perfectly. Thank you so much. I felt well cared for. " Lisa M. 1/2016

Lorraine M Rao is currently not instructing any classes.