Lauren Richardson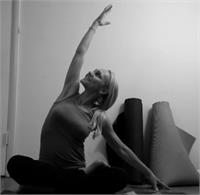 Lauren Richardson, ERYT 200, Lauren discovered yoga over twenty years ago as a way to balance her athletic pursuits, passionate heart and overall curiosity of being. After practicing a variety of styles, she trained with Jonny Kest in the Ashtanga tradition. She teaches a dynamic series of sequenced postures that flow together to promote mobility and healing in the body, focus and ease in the mind and awareness and connection with the breath. She enjoys working with all ages and abilities and believes that yoga meets you where you are, as it is both therapeutic and invigorating. In addition to working in studios, Lauren has had the opportunity to share the benefits of yoga with children in camps, schools and as a training element of many athletic teams. She has directed yoga teacher training programs for the past 5 years at multiple centers and continues to learn and grow from her inspiring student trainees.
Her students say:
Lauren offers the best Vinyasa Flow class I have ever attended. Love Blue Heron! Amber B 5/2/18
Lauren Richardson is the BEST!! Blue Heron is SO lucky to have her!
Lise L 2/108
( we agree!)
Lauren Richardson instructs the following:
Build strength and flexibility and encourage cardiovascular health with this fun and quick-paced Vinyasa Flow class. Form, movement and breathwork are integrated into carefully sequenced yoga poses, generally referred to as sun salutations. Prepare to work, have fun, and develop a practice with many health benefits.