QiGong
This class is taught by: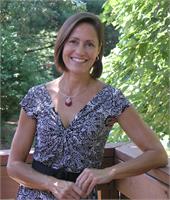 Jessica Koch is a certified Five Element Medical QiGong Instructor. She began studying QiGong shortly after her introduction to the benefits of meditation over fifteen years ago. She continues to explore the healing effects of qi through QiGong, NeiGong, and other energy balancing modalities such as Zero Balancing, External Qi Healing, and Meditation. She enjoys providing the opportunity for others to experience healing through these modalities in the classroom, in workshops, and one-on-one sessions.
See what her students are saying:
"As always, my wife and I thoroughly enjoyed our qigong classes with Jessica. She is wonderful." Stan M., 6/2018
Come to experience the immediate healing effects of a QiGong practice. QiGong involves gentle movements synchronized with the breath leading to a process of energetic change in the mind, body, and spirit. Through this process of transformation, students will develop expanded awareness of themselves and their energy bodies to balance emotions, regulate qi (life energy), and relax the mind. QiGong is designed to address individuals where they are, whether beginners or advanced practitioners, and all levels of fitness.
Upcoming classes: