TGIF Yoga
This class is taught by: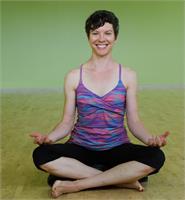 Hannah believes that yoga guides people home – making them more self-aware and enhancing their capacity for self-expression. Her specialty is helping individuals learn how to release tension in their bodies, center their thoughts and restore their sense of well-being. Her classes incorporate restorative yoga postures, breathing, relaxation and meditation strategies for releasing stress and promoting healing. She has been practicing yoga for over a decade. She has been teaching since she received her training in classical Hatha yoga in 2009. She completed studies in Yoga Therapy in July 2011 and studies in Ayurveda in 2013. This year she will complete her 300-hour advanced yoga teacher training.
Hannah's Clients Say:
"Hannah had a beautiful , gentle and reflective manner of presenting mild yoga and meditation for her New Year's Eve workshop. She incorporated mind body spirit and social connection in the practice using deep relaxation, guided meditation in a circular seating arrangement and shared some personal thoughts along with a lovely poem. In additiin, near the end of the workshop, she passed around dates and chi tea after which we all shared a meaningful word with one another. I was also very impressed with her kind gesture of recording our ending OM chant for Peter who was unable to teach with her because of ill health. In conclusion it was a very uplifting and relaxing way to close out 2017. You are blessed to have Hannah as a teacher at Blue Heron." Marsha O, 12/31/17
"Great TGIF class with Hannah. Perfect way to end the week. Lovely studio too." Jane G
"Lovely TGIF class on Friday with Hannah. Just what I needed to end the week. Easy asananas then restore and relax." Jane G.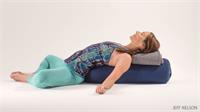 Unwind from your week with a class that incorporates a slow-flowing, hatha yoga practice followed by deep relaxation through supported, restorative yoga postures - flow and let go.
Upcoming classes: