YIN and NIDRA: the interplay of relaxation
This class is taught by: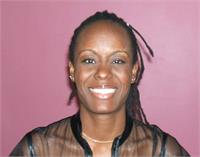 Shervon was first introduced to yoga in high school while in New York City. It was there that the seed of self-discovery was planted which has continued to grow and call her back to the mat time and time again as an adult. Shervon's commitment to personal practice led her to complete a 200 hour Vinyasa Yoga Teacher (RYT) certification in 2012 and a 50 hour advanced Yin Yoga Teacher Training in 2016.
Shervon enjoys teaching Vinyasa, Hatha, Yin and Restorative yoga styles to beginners, athletes and advanced students alike. Her background as a Licensed Clinical Professional Counselor (LCPC) inspires her approach as a teacher. The practice of yoga, similar to the process of counseling, allows one to look within to build self-awareness which informs daily life. Yoga has a beautiful way of clearing the mud away from the lens with which we see ourselves. Shervon is committed to nurturing the seed of self-discovery and personal growth in every student as it unfolds on and off the mat.
It's Summer and we are at the peak of activity spending time with friends and family, getting outside, traveling and staying up late. It's all fun, yet if not balanced with periods of down time we can be left feeling a bit drained and tired.
Could you use a break to rejuvenate? Join Shervon for an afternoon of deep relaxation as we explore Yin Yoga and Yoga Nidra.
Yin Yoga invites you to slow down and be present while holding poses for time targeting your body's connective tissue, increasing your body's blood flow and energy. Yin helps calm and soothe your central nervous system activating your Relax, Rest and Digest response.
Yoga Nidra, also called yogic sleep, is the state of consciousness between wakefulness and sleep. It is the practice of getting the body completely relaxed while lying down to experience Deep Relaxation, Restoration and Healing. Nidra helps to reduce symptoms of depression, anxiety, PTSD, chronic pain and insomnia.
In this workshop, you will be guided through a calming Yin Yoga practice followed by a deeply relaxing Yoga Nidra practice. This workshop is suitable for all practitioners.
Cost:$35 early bird; $40 day of